Thursday 4th March 2021
Bhlaraidh wind farm extension online exhibition update

Further to the community council's request for more live chat sessions at the Bhlaraidh Extension virtual exhibition there will be additional sessions on Wednesday 10 March from 10am to noon and from 2-4pm. Members of the project team will be available to answer specific inquiries about the proposal and listen to feedback from residents and business operators.
The weblink to the virtual exhibition can be found here: openplans.uk/bhlaraidhextension
Wednesday 3rd March 2021
Local Development Plan Consultation Meetings 9th March @ 7.30 pm and Thursday 18th March at 10am.
Should anyone wish to join our Discussion Group on 9th March 2021 please email us
Please click here to view or download the document
"Glen Urquhart Community Council
March 2021 discussion on Inner Moray Firth Local Development Plan – Housing and Development Sections."
Tuesday 23rd February 2021
Bhlaraidh wind farm extension online exhibition
Click here for https://www.sserenewables.com/BhlaraidhExtension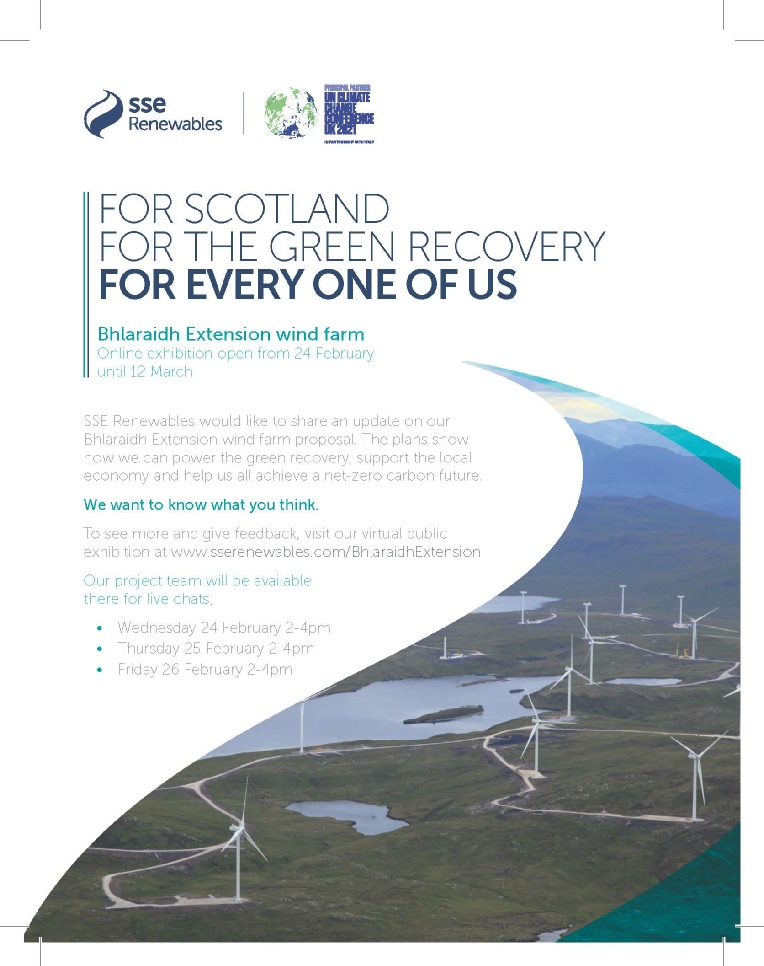 Saturday 23rd Jan 2021
Bhlaraidh wind farm extension update
Information received from SSE Renewables:
Last year SSE Renewables introduced a proposal for an extension to our Bhlaraidh wind farm development, on the Glenmoriston Estate, north-west of Invermoriston in the Great Glen. We are now able to provide more information about this proposal. Our normal practice would be to host an exhibition at a venue near the development site but government restrictions on social gatherings during the COVID-19 pandemic mean a public gathering is not possible.
Instead we shall be hosting a virtual exhibition from 24-26 February. Visitors to this online event will be able to browse information including maps, digital visualisations, and diagrams. During the course of the event, members of the public will also be able to participate in scheduled live internet Q&A chat sessions with the Bhlaraidh extension team and provide feedback via email. We will also distribute a newsletter with important information about Bhlaraidh extension to households and businesses in the local area.
We want to ensure everyone in the local area has a chance to examine our proposal. If you experience difficulties in accessing a virtual exhibition, please let me know and we will do what we can to provide assistance.
Alan Greenwood
Stakeholder Engagement manager
SSE Renewables
Sun 19th july 2020
Bhlaraidh Wind Farm extension
Should you wish to comment on the proposed Bhlaraidh wind farm extension the SSE has extended their deadline for comments to the 21st July 2020. Click this link for the online feedback form . You can also contact SSE for further information using this email address Eilidh.todd@sse.com
Friday 28th May 2020
Further update on Fasnakyle Windfarm
We have been informed by Matthew Haughton of Vento Ludens that they will be re-starting limited aspects of on-site survey work for the proposed Fasnakyle Wind Farm. This follows the announcement from the First Minister on Friday 28th May 2020 of certain lockdown restrictions being eased in regards to the Covid-19 outbreak.
Tuesday 21st April 2020
Update on Fasnakyle Windfarm


The developer tells us that all work in the area was ceased some weeks ago in line with government guidance and in order to ensure the health and safety of our contractors and local residents. Both the developer and their contractors are now working from home, and continuing with desk-based activities.


In terms of community engagement, they had intended to commence regular drop in meetings for local residents and organisations this spring, but clearly are unable to proceed with these until and unless government guidance changes and it is considered safe and appropriate to meet face-to-face. However, they are very much still available to discuss the proposals and can be contacted via the contact details on the project website –
Glen Urquhart Community Council will not form a view on the development until a formal planning application is received but any comments from the public can be received at our monthly meeting or via email chairglencc@gmail.com and where appropriate we will raise questions with the developer
Tuesday 17th March 2020
The Drumnadrochit Flood Scheme has recently received confirmation from the Scottish Government that deemed planning permission has been granted. More details will follow when available.
Friday 30th Sept 2019
Planning Application 19/02761/FUL – erection of 94 houses (including 25 affordable homes) and associated works – land at Drum Farm
David Fraser provided a comprehensive overview of this application, including a PowerPoint presentation (Click here to download).
Friday 13th July 2018
Springfield Developers have now submitted their planning application for the land at Drum Farm, Drumnadrochit. GUCC has objected to this application, please see below:
"Glen Urquhart Community Council
David Cowie
Planning Officer
The Highland Council
by e mail July 11th 2018
Dear David Cowie
18/02863/FUL proposed development at Drum Farm, Drumnadrochit
Glen Urquhart Community Council, (GUCC), OBJECTS to planning application 18/02863/FUL as it fails on a number of significant points to comply with the Local Plan.
When the Local Plan was developed, the community was supportive of 2 large areas of ground being made available for development. However, it was recognised that constraints were required on rate of development and the density of housing, in order to allow the existing community to grow at a sustainable rate and to maintain its rural character.
Areas of non-compliance with Local Plan:
 95 houses proposed on an area allocated for 55 houses; a 73% increase in permitted housing numbers.
 No commitment to a phasing plan with a maximum of 10 housing units per annum.
 No commitment to the non-housing element which has to be provided within the initial phase of development.
 We do not agree that the proposed housing number, style and mix represent high quality of architectural design respecting the sites prominent tourist route location.
 As the proposal split the planning area, there is no commitment to the A82 Trunk Road landscaping and other features along the A82 which are required to mitigate the impact of this housing scheme.
Other reasons for objection are:
 Insufficient affordable houses to comply with The Highland Council, (THC), minimum of 25%. In terms of housing units they are compliant, but, due to the proposed large number of 1 bedroom units they are only providing 21.2% affordable. We would also question whether the mix of mainly 1 and 2 bedroom units meets the local needs.
 Road infrastructure – Kilmore Road and its junction with the A82 are unsuitable for the proposed 95 houses.
 Pedestrian crossing points – no provision for safe access to the schools at the A82/Kilmore Road junction; no safe access at the fire station for people crossing to the Post Office.
Additional comments:
 The section on the pre-application notification and consultation fails to address a number of points, including community requests for a road access point at the existing Cobbs Bakery and footpaths to the River Enrick.
 There is concern that the capacity of the schools and the Health Centre would be exceeded.
 There is concern that the waste water capacity would be exceeded.
Conclusion:
In the event that this development proceeds, in any form, we would seek conditions to include the option for the community to own, or have a very long terms lease of all areas of woodland / parkland at no cost to the community in terms of asset transfer or maintenance, similar to the conditions imposed on Loch Ness Homes.
A condition of any planning should include the formation of a Liaison Group including representatives of the developer, GUCC and other community representatives.
The community of Drumnadrochit is currently finalizing a Local Energy Plan, (LEP), which draws together ambitions for energy / heat opportunities using local renewable resources. This is a pilot, funded by the Scottish Government and the European Development Fund. The developer could help meet these aspirations by installing solar / PV / heat pump packages as standard thus taking a lead in energy / heat sources in new build projects.
Any development on this site should be regarded as an opportunity to renew wastewater drainage provision across the whole site and to resolve the drainage issues near the Post Office.
GUCC restates its OBJECTION to this application.
Yours sincerely – Pam Lucas – chair – Glen Urquhart Community Council"
----------------------------------------------------------
Friday 29th June 2018
Druim Ba windfarm - Following the Public Inquiry in 2017 the Reporter has refused the appeal and the proposed wind farm at Druim Ba will not proceed. Please click this link to see the full decision document. Note the Appellant has 6 weeks to challenge the decision but that any challenge can only be against procedural points.
Saturday 13th January 2018
Proposed Springfield development in Drumnadrochit.


In December 2017 Springfield Ltd. held a public exhibition related to a proposed development in Drumnadrochit. Representatives of the company also made a presentation to GUCC at the November meeting.


No planning application has yet been lodged with The Highland Council, although the formal planning process has commenced. Based on information to hand so far, GUCC has responded with the letter posted below.


This proposed development will be on the agenda of each CC meeting and progress will be recorded in the minutes of meetings:
" Glen Urquhart Community Council
Stuart Morrison MA MSc MRTPI
Springfield Properties PLC
By e mail – December 15 2017
Dear Stuart Morrison
Proposed development at Drum Farm, Drumnadrochit


Following the presentation at the November meeting of GUCC and the subsequent public exhibition, the Community Council wishes to make the following comments on the proposed development at Drum Farm, between the Fire Station and Kilmore Road.
This development is within the area identified as DR5 in the current Local Plan, and we would expect the proposed development to fully meet the requirements of the Local Plan.
In particular we draw your attention to the following clauses:
 The area is designated for 55 houses, business, retail, community
 Phasing of a maximum of 10 houses per year
 Any application must include a non-housing element which must be provided within an initial phase of the development
 Additional requirements on quality, setting, access etc.
It is our understanding that your site excludes the non-housing element and we are not aware of a concurrent application that will fulfil that requirement.
Specific areas of concern were access onto the A82 Trunk Road from Kilmore Road, the narrow section of road with no footpath beside the old School house.
We would also ask that the development is designed to provide a safe vehicle access to the area currently used as Cobbs Bakery. That is an area where the community would like to develop housing for vulnerable younger adults, and ideally, access would not be directly off Kilmore Road.
We would also ask you to review the opportunity to create a path linking the village centre, via the new development to the River Enrick.
Yours sincerely – Pam Lucas – chair – Glen Urquhart Community Council "
Friday 2nd June 2017
Cnoc an Eas wind farm refused planning permission following appeal.
Proposed wind farm at Cnoc an Eas - the appeal against refusal of planning permission by The Highland Council has been refused by the Reporter. Full details on the DPEA website, reference PPA-270-2155. It would be nice to believe that Force 9 will do the honourable thing now and accept this decision, but no room for complacency yet.
Saturday 8th April 2017
Cnoc an Eas wind farm inquiry update - Written Closing Submission from GUCC
Glen Urquhart Community Council
DEPA PPA-270-2155
proposed wind farm at Cnoc an Eas, Glen Urquhart
Closing Submission
Corrimony Chambered Cairn
Historic Environment Scotland (HES) had lodged an objection to the
application. Their three representatives all stood firmly by their original
submissions in explaining how the proposed wind farm would impact on the
setting of Corrimony Cairn and the importance of this cairn in the wider picture
of our current understanding of Bronze Age structures, their uses and the
ways in which people interacted with them.
The Appellant's defence was purely academic. Corrimony's Clava Cairn is
equally important in its setting as other cairns are to Balnalurain. The
Appellant suggests that tree cover would provide screening and have a
softening effect on the industrial structures. As was pointed out during the site
visit, it is not realistic to depend upon the presence of screening from tree
cover due to forestry activity.
Glen Urquhart Community Council (GUCC) believes that Corrimony Cairn is a
very significant part of the history and culture of the glen, it would not benefit
from commercialization of its surroundings and the building of the proposed
wind farm would have a detrimental impact on its setting.
Impact on landscape, visual amenity, residential and recreational
amenity and cumulative effect
GUCC, STAG, the Mountaineering Council of Scotland (MCoS), ScotWays
and local residents all participated maintaining their original objections.
Tourism is the main industry of this area and it is marketed as offering visitors
access to and enjoyment of wild land and open countryside. The Appellant
underestimates the degree to which the proposed wind farm would be visible
from the Affric Kintail Way and from the surrounding hills and peaks. MCoS
and ScotWays made mention of the cumulative effect of the "Ring of Steel"
which is in danger of being created around Loch Ness whereby people in
elevated countryside have an almost continuous sight of numerous wind
farms. GUCC supports the local belief that this proposed wind farm would
contribute to a negative outcome for tourism which would in turn damage the
local economy.
Permanent residents of Glen Urquhart must not be overlooked. Members of
the community regularly and frequently use the many forestry and hill tracks
for walking, riding and cycling. There is also farming, stalking and fishing
activity. A highly visible industrial development would detract from the
character and amenity of the district. The Appellant showed a video
presumably intended to indicate that awareness of turbines from the A831
would be minimal, however, this video was not helpful in giving any
meaningful impression of place or context.
Compliance with the Onshore Wind Energy Supplementary Guidance
The Highland Council demonstrated that although Glen Urquhart may be
considered suitable for small wind turbines intended for private use, this is a
large scale industrial development, and, therefore, does not comply with the
supplementary guidance. Thus the presumption should be against the
Appellant.
Conditions
The Highland Council and the Appellant appear to have reached agreement
on most of the conditions listed during the appeal.
12. Hours of construction – The Appellant suggests working hours from 0700
to 1900 Monday to Friday and 0700 to 1300 hours on Saturdays with no work
on Sundays or public holidays. This is acceptable. However, the custom in
this area is for there to be no Sunday working of any kind. The tasks listed by
the Appellant as being appropriate on Sundays appear to be routine core
activities and as such ought to be carried out during normal working hours.
23. Community Liaison Group – THC has indicated that a community liaison
group should be in place ahead of any commencement of development. The
Appellant has stated that this was not considered necessary.
GUCC is strongly of the view that a community liaison group is essential in the
case of a large industrial development. The group should include
representatives of Glen Urquhart and Kiltarlity Community Councils, STAG
and local residents as well as any other affected groups. The group should be
formed well before commencement of the project and meet in a planned and
orderly fashion during construction.
Conclusion
GUCC continues to affirm that the proposed wind farm is a large scale
industrial development, it is not appropriate to the integrity of this rural
environment and it would inflict detriment to the quality of life of residents and
to the local economy. GUCC believes that if the Lavender Test was applied in
this case it would become evident that several properties, especially in the
Balbeg, Shenval and Shewglie areas, would become unattractive places to
Live.
It is disappointing that the Appellant regards a community liaison group as not
necessary. It was stated that any problems which occurred would be rectified.
This in no way alleviates the anxiety of the residents who would prefer that
problems did not occur in the first place. This includes particular concerns
including pollution of the private water supplies and safety on the access
tracks. The Appellant stated that on other projects liaison groups had faded
due to "fatigue". This suggests a history of lack of commitment to proactive
interaction with local communities and reinforces the impression of lack of
respect for residents.
GUCC is clear that no effective and suitable mitigation measures would
alleviate the impact on Corrimony Chambered Cairn, Shenval, some
properties in Balbeg and tourism. We continue to believe that the proposal is
contrary to planning guidance and, therefore, the appeal should be refused
and the proposed development should not take place.
Pam Lucas / John Duncan
Glen Urquhart Community Council
March 23rd 2017
Thursday 16th March 2017
Cnoc an Eas wind farm Public Inquiry update - The Public Inquiry into refusal of planning permission to construct a wind farm at Cnoc an Eas has now been completed. These was three fairly intense days considering evidence on policy and technical issues. Participants included The Highland Council, Historic Environment Scotland, Scotways, the Mountaineering Council of Scotland, STAG, nearest residents to the proposed site, GUCC and Kiltarlity CC all opposing the appeal as well as representatives of the appellant who had, obviously, initiated the appeal.
We have all done everything we could now and can only await the decision of the Reporter. This could be delivered mid-May 2017, but the time scale might well be longer than that. Attempting to second guess the outcome is not helpful, but we have done our best and hope that the outcome will uphold the original decision to refuse the application to construct this wind farm.
Monday 13th February 2017
Proposed wind farm at Cnoc an Eas, Glen Urquhart - the Public Inquiry into the appeal by the developer against refusal of planning permission for this wind farm will commence on Tuesday 7th March 2017 at Cannich Village Hall, Cannich. Sessions will run from 10.00 to 16.00 with a break at lunch time. The first session will relate to Corrimony Chambered Cairn. The Inquiry is scheduled to last 3 to 4 days. Members of public may attend as observers, but will not be allowed to participate.
CNOC AN EAS appeal documents are available for examination in the LIBRARY, at Glenurquhart High School.
Wednesday 14th September 2016


Copy of letter sent on behalf of GUCC in response to a further LVI prepared by the appellant
Glen Urquhart Community Council
Incheachart Triangle
Glen Urquhart
Inverness-shire IV63 6TN
Ms Jane Robertson
DEPA
The Courtyard
Callendar Business Park
Callendar Road
Falkirk FK1 1XR
September 12th 2016 – by e mail
Dear Ms Robertson
PPA-270-2155 proposed wind farm at Cnoc an Eas, Glen Urquhart
This letter is sent on behalf of Glen Urquhart Community Council in response to a further LVI prepared by the appellant in the above matter. We would draw attention to the fact that this latest LVI was submitted after the closing date for comments and the DEPA may wish to consider not including it in the appeal process.
In general terms the appellant does not appear to present new information but continues to dismiss the negative impact for nearby residents and for the wider Glen Urquhart community. The appellant also continues to lay emphasis on the expectation that screening cover would be provided by forestry. There is no recognition that the presence or otherwise of tree cover is a constantly changing situation governed by FCS, private landowners, disease and weather all of which are completely outwith the control of the appellant.
"In the interests of openness," Glen Urquhart Community Council (GUCC) recently received a copy letter written by Force 9 Energy, dated 19th October 2015, which had been sent by them to Simon Hindson, Highland Council Planning and Development. The letter was addressing the issues raised by GUCC in their response to the Cnoc an Eas Envionmental Statement.
GUCC wish to comment on para.1 of the letter as follows:- Site Selection - The appellant suggests there is a similarity between the Cnoc an Eas site and the Corrimony wind farm site.
The Corrimony wind farm is situated 12Km south west of Cnoc an Eas. It is correct that the sites are at similar elevations but the topography is not alike.
The Corrimony site is located on a small exposed ridge with an all-round open aspect, the nearest hill ridge being 3Km distant.
The Cnoc an Eas site is located in a "hollow", (a corie), with hill ridges sheltering the turbine array along the northern and eastern edges of the site, at approximate distances of 1.4Km and 0.8Km respectively.
Turbines T1, T2, T3, T4 and T7 are the only turbines which present a 100% swept rotor area to northerly and easterly winds. The remaining eight turbines present more or less a 50% swept rotor area due to the height of the ridges. Is this an efficient capture of the wind resource?
The proposed Alt Carach Wind Farm Site promoted by ABO, situated 9Km north of Cnoc an Eas and at a similar elevation, was not progressed because desk top wind studies did not match the reality of on-site wind speed measurements when they later became available.
The appellant recently erected two wind masts on the proposed Cnoc an Eas site. They also have "undertaken a comprehensive wind modelling programme on the Cnoc an Eas site." In the interests of openness, it would be helpful if the appellant published their findings.
GUCC opposes the suggestion that this appeal be conjoined with the appeal relating to the proposed wind farm at Drum Ba. As previously stated, the two schemes are very different and Force 9 Energy could be thought to be being opportunistic by seeking to make its project look less bad in comparison.
GUCC respectfully requests that a site visit should take place and that an oral hearing rather than a public inquiry might be worthy of consideration.
In conclusion, Glen Urquhart Community Council stands by all its earlier comments and continues to OBJECT to this application and subsequent appeal.
Yours sincerely
Pam Lucas – chairman – Glen Urquhart Community Council
Thursday 28th July 2016
Glen Urquhart Community Council
PPA-270-2155
Proposed wind farm Cnoc an Eas, Glen Urquhart
Response to Appeal
Glen Urquhart Community Council, (GUCC), lodged a detailed objection to the original planning application. This application was refused by Highland Council, but the applicant has now appealed. It is frustrating that virtually no new information or material has been offered by the appellant, except for their suggestion that this appeal should be heard in conjunction to the appeal in respect of ppa-270-2147, a proposed wind farm at Druim Ba, Glen Convinth.
GUCC has already OBJECTED to the notion of a conjoined appeal and a summary of the reasons is given below:
1. Different settlements, individuals and communities are involved.
2. Although some issues are common, there are significant differences and issues specific to each proposed site.
3. The proposed sites are not adjacent, being some 10k apart.
4. The proposed sites do not share an LCA in the Highland Council draft Onshore Wind Energy Guidance. Druim Ba is located in section 8, Glen Convinth and Cnoc an Eas is located in section 9, Eskdale Muir.
5. The appeal in respect of Druim Ba must surely be quite far advanced and that for Cnoc an Eas is only beginning.
6. Community council members are unpaid volunteer laypersons. Dealing with the documentation and process relating to one appeal is difficult enough; dealing with the volume of documentation relating to conjoined appeals could be seen to be an unreasonable burden.
Highland Council deemed the application to be contrary to policies 28, 57 and 67 of its Development Plan and GUCC supports the comments of the Planning Officer.
Although the appellant provides a lengthy list of the merits of the people employed to draft their appeal, no actual new material is presented and the concerns of the local communities and of Highland Council are dismissed and belittled.
Among these issues are:
1. Economic loss – the estimated profit appears to be optimistic and would be, for the most part, not of advantage to the local area. It will not reimburse the local community for losses incurred in the tourism industry and for a drop in property values.
2. Amenity / environment – quality of life, water supplies, dust nuisance and road safety are all issues of concern for local residents but these are dismissed. Also disregarded are risks to local wild life including rare and iconic bird species, among them being osprey, which are proven to be present in the vicinity of the proposed site. The appellant continues to insist that screening would be provided by trees. The appellant is in no position to know this since they have no influence on the harvesting policies of FCS and other landowners. Replacement newly planted trees would not be mature within the life span of the proposed wind farm. The impact on the settlements of Balbeg, Shenval, Corriemony and the Loch Ness area is understated to a degree which is disrespectful of the quality of life of existing residents.
3. The turbines would be visible from Strathfarrar NSA and Wild Land Area 24. In addition, the proposed turbines would stand in Landscape Area 9 of the Draft Supplementary Guidance on Onshore Wind Energy.
According to the guidance, the "development should avoid higher ground", and there should only be, "small scale individual turbines, where well located to existing building / land use". It is hard to see how these guidelines might apply to this application.
4. With regard to community benefit, although GUCC designated Soirbheas to administer any income deriving, it has already made it clear that it was not envisaged that this information would be used in any way to validate an application or appeal and that is still the position of GUCC.
With particular regard to the Non Technical Summary Submitted with the Appeal Document we wish to make the following comments:
1. See Bidwells Report - Glen Urquhart - Glen Urquhart - Felling and Replanting Map 4
This woodland abuts the west side of the proposed Cnoc an Eas Wind Farm site and is in the process of being restructured. Map 4 indicates areas to be clear felled during 2017, 2019, 2021 and 2030. The grey coloured areas have been restocked and are under young conifers. The proposed felling will have consequences on Corriemony Chambered Cairn and Community Group B, described in Chapter 4, Effects on Communities.
(a) With reference to the E.S. - SNH Viewpoint Pack VP5 Corriemony Cairn, the conifer woodland on the left in shadow, and the area in sunshine in centre image, are planned to be felled in 2030. From that point, the woodland in shadow going right along the horizon is planned for 2019 and 2021. Exposing the areas felled in 2017and 2018. The felling pattern is incremental over a thirteen year period. Each increment would significantly increase the visibility of rotors and towers when viewed from Corriemony Cairn. See VP5 Wireline Drg. If the wind farm is constructed, the increased visibility would endure for the 25 year life of the site and longer if the site were to be re-turbined. The view is presently rated significant (major), but due to that just described may require revision to a significant (adverse) rating. This view point is arguably the most depressing in the E.S. pack.
(b) Effects on communities, Chapter 4. - Para. 4.29 Community Group B. The Appellant's observations regarding Community Group B state that views of the proposed turbines from properties (P1), (P2) and (P3) will be largely screened by the slope of intervening land and coniferous forestry. The Appellant has ignored the landscape implications due to the future removal of the intervening coniferous woodland and does not draw attention to the resulting increased visibility of rotors and towers. A similar effect will be experienced by receptors (people) from the minor road referred to as running between Buntait Farmhouse (P1) to approximately 200m east of Buntait Cottage (P3). The Appellant points out that properties (P1) and (P2) have views of Corriemony Wind Farm. This should not be understood to mean that the residents have become accustomed to wind turbines. Put in context, the Corriemony Wind Farm is 8km distant from (P1) and (P3) whereas the nearest proposed wind turbine is 2.4 km.
2. Chapter 4 - Effects on Communities - The Appellant's Developed Assessment of Residential Visual Amenity.
Para. 4.16 The Appellant states "a judgement needs to be made considering all available views and other factors." The "other factors" are offered as six bullet points. The first five bullet points may all have judgements made or even be measured and scored then tabulated. The sixth bullet point "availability of screening" is the maverick and unreliable. Vegetative screening; trees, woodlands, shrubs etc., are unreliable because of the actions of others and can be affected on a whim by owners, neighbours, forestry operations, utilities, and gales. It is also subject to seasonal variability in effectiveness. In-curtailage screening may be appropriate where it exists. Otherwise it may be introduced, which in its self impacts on living conditions. Also, freely moving outwith the curtailage of a home, especially in a Country that operates a freedom to roam policy is compromised with successive views of a nearby wind farm.
The VP's presented in the E.S. are still images. The ratings ascribed to the VPs. Nos. 1,2 and 4 cannot take into account the moving rotors and the orientation of the nacelles due to the wind direction. These VPs represent typical views for property groups E, F and D respectively. A large proportion of properties are in the high end of the ZTV (8-10 ) and (11-13). The Appellant reasons that screening is a mitigating factor in the representative properties. Glen Urquhart Community Council does not agree.
Glen Urquhart Community Council OBJECTS to this appeal and requests that the appeal be dismissed.
July 28th 2016
…........................................
Sunday 17th July 2016
Proposed wind farm at Cnoc an Eas
The planning application for this proposed wind farm was refused by Highland Council Planning Committee,
and it would have been good if the developer had accepted this decision. However, they have not.
Force9 Energy acting for EDF has lodged an appeal to the Scottish Government Directorate for Planning and Environmental Appeals (DEPA). The documents and further information are available on the DEPA website, you will need to register on the DEPA website but the process is simple:
https://www.dpea.scotland.gov.uk/ and the appeal reference number is PPA-270-2155.
Appeal documents are also available on Highland Council website:
Highland Council e planning, follow the links to planning appeals reference number 16/00033/REFIN
Please watch the web site and facebook page for updates.
Monday 9th May 2016
Important Update regarding Cnoc an Eas wind farm planning application.
The application has been refused by Highland Council Planning officers under "delegated powers". The developer now has until 9th August to lodge an appeal to the Scottish Government. The reasons given for refusal of the application are given in detail in the document 15_02758_FUL-REPORT_OF_HANDLING-986133 which is available to view by clicking this link.
…...........................................
Glen Urquhart Community Council
Proposed wind farm at Cnoc an Eas 15/02758/FUL
To Highland Council – OBJECTON to the above planning application
Glen Urquhart Community Council (GUCC) has already lodged a full objection to the above planning application. The applicant has now submitted Supplementary Environmental Information (SEI) to which GUCC wishes to respond as follows.
Site selection – The applicant reiterates their earlier assertion that the site has a good wind resource, based on detailed modelling. Since our original response which queried this assertion, another prospective developer AOB, has withdrawn its application for a site at Alt Carach, some 8km to 10km north of Cnoc an Eas and situated at a similar elevation. AOB states that it withdrew due to the wind measuring masts returning unfavourable data. It described this data as, "consistently low wind speeds". AOB also stressed that UK Government cuts to wind subsidies played no part in that decision. Force9 Energy does not have a wind measuring mast recording data at the proposed site at Cnoc an Eas. Therefore, we continue to believe that the applicant has not proved the suitability of the site as a wind farm and that it is not credible that Government subsidies would be disbursed to an operator without more concrete evidence of viability, other than a desk top model.
Landscape and visual amenity - The SEI seeks to minimize the impact of turbines on residents because the houses tend to be orientated south. This ignores the fact that people spend much of their time outside their dwellings working the land and for other purposes. It is suggested that visitors will be too occupied in their activities to notice the turbines. However, walkers, climbers, riders and cyclists will be moving relatively slowly and can hardly fail to observe the structures. This will particularly apply in the case of users of the Affric Kintail Way, climbers halting on summits and passengers travelling on cruisers along Loch Ness which is a Designated Scenic Landscape Area in the Local Plan. The applicant wishes to construct an access road going up the hill in a straight line at a gradient of 1:7. This would be highly visible from the Affric Kintail Way, further reducing the amenity of the area. GUCC is aware that residents who would be obliged to use this road to access their homes have raised significant concerns, including issues of visual impact and safety. It seems unlikely that a shooting estate would be permitted to build such a road, ignoring as it does any attempt to achieve compatibility with the landscape by following contours or by adhering to guidelines for roads in the countryside. Additionally, in recent months there has been further wind throw as well as extensive, ongoing, planned timber harvesting. Because of this, the photomontages give an even less accurate impression of the true level of visual impact, especially in the Shenval area.
Wildlife / Ecology / Cultural Heritage – The applicant acknowledges the presence of various iconic species of bird, some of which breed in or near the proposed site and others which are trying to establish territory. The likely impact of the proposed turbines continues to be dismissed as "insignificant or negligible". There is no indication of any recognition of the interdependence between the many species of bird and animal present and the watercourses and forestry. The applicant wishes to deal with this issue by advocating extensive tree felling and deer culling, thereby removing habitat and food sources and increasing the risk of flooding lower down the Glen.
The SEI does nothing to address the impact on Corrimony Chambered Cairn which is a Guardianship Monument in the care of Historic Environment Scotland which has objected to the application. This monument is one of the best preserved of its kind. The introduction of such a prominent wind farm along with its attendant infrastructure and connection to the national grid would have a seriously detrimental impact on the ambience of the site. In addition, whilst the applicant indicates willingness to take into account various smaller sites of historic interest prior to replanting, they fail to take into account that such sites will have been damaged during the construction phase.
Tourism / economic impact – Notwithstanding the production by the applicant of various surveys and comments from government ministers who might be expected to adhere to the party line, GUCC stands by its view that the proposed development would have an adverse impact on tourism which is the main industry of the area. The applicant appears to imply that turbines would be visible from only one B&B business and that only that business would be impacted by the proposed development. In fact, within the GUCC area between Drumnadrochit and Millness there are approximately twenty businesses offering a spectrum of accommodation from a couple of rooms to hostels and luxury lodges. Their websites uniformly focus on beautiful landscape, uninterrupted views and wilderness land. None, as yet, including VisitScotland's current campaign, features a wind farm.
The applicant suggests that well paid employment would derive from the proposed wind farm. The local experience of large scale construction projects is that most of the work force is contractors imported from elsewhere. Although some of these workers do occupy local accommodation, the majority lodge in Inverness. Local filling stations and pie shops also profit in the short term but this additional trade ends abruptly with the end of the construction phase. Much is made of ongoing permanent, year round employment. In practice such jobs are few and tend to be awarded to people living outwith the immediate area who travel in when required. The SEI states that in the event of permission being granted, the supplier would be Wind Towers (Scotland). Given that this company is situated in Machrihanish in Argyll, it is hard to see this as contributing to the economy of Glen Urquhart.
Community Benefit – GUCC confirms that it authorised Soirbheas to administer funds accruing as community benefit in the hypothetical event that the development should proceed. In March 2016 Soirbheas entered into a Memorandum of Understanding (MoU) with the applicant who within days issued their SEI. Force9 Energy appears to believe that the existence of a MoU indicates community support for their project. This is categorically not the case. Community benefit was mentioned at the public open meeting held on August 17th 2015 when it was made clear that any subsequent MoU would be without prejudice to the application process. Representatives of Force9 Energy who participated in that meeting indicated that they understood and accepted this. Although Soirbheas was authorised to discuss the terms of community benefit in principle, it was never authorised to discuss or enter into any agreement for community ownership of turbine(s). Any attempt to suggest otherwise is a deliberate intent to mislead. The applicant seeks to make positive comparisons with community benefit arrangements made with Corrimony Wind Farm. The two projects are so different that no meaningful comparison is possible and such references should be ignored. GUCC understand that Soirbheas will be writing to Highland Council to clarify that the MoU should have no bearing on the planning application. For the avoidance of doubt the Community is not seeking to take a share in a development as envisaged by Policy 68 of the Highland Wide Development Plan and the relaxation envisaged by Policy 68 should not be applied.
Highland Wide Local Development Plan – Policy 67
The Community Council have reviewed the criteria listed in Policy 67 and we believe the proposed development will have a significant negative impact on the following key issues and the developer has failed to sufficiently mitigate the risks in the following areas
• natural, built and cultural heritage features;
• species and habitats;
• visual impact and impact on the landscape character of the surrounding area (the design and location of the proposal should reflect the scale and character of the landscape and seek to minimise landscape and visual impact, subject to any other considerations);
• amenity at sensitive locations, including residential properties, work places and recognised visitor sites (in or outwith a settlement boundary);
• the safety and amenity of any regularly occupied buildings and the grounds that they occupy- having regard to visual intrusion or the likely effect of noise generation and, in the case of wind energy proposals, ice throw in winter conditions, shadow flicker or shadow throw;
• ground water, surface water (including water supply),
• the amenity of users of any Core Path or other established public access for walking, cycling or horse riding;• tourism and recreation interests;
• land and water based traffic and transport interests.
Highland Wide Local Development Plan – Policy 28
The proposals fail to meet the criteria outlined in Policy 28 and in particular we would draw your attention to the following section:-
Developments which are judged to be significantly detrimental in terms of the above criteria will not accord with this Local Development Plan. All development proposals must demonstrate compatibility with the Sustainable Design Guide: Supplementary Guidance, which requires that all developments should:
• conserve and enhance the character of the Highland area;
• use resources efficiently;
• minimise the environmental impact of development;
• enhance the viability of Highland communities.
Conclusion – Scottish Government figures indicate that if all the wind farms already consented get constructed, then it will have reached its targets for wind energy. GUCC sees nothing in the SEI which would lead it to alter its original response. The applicant has not addressed local concerns or offered mitigations. Nor has the applicant proved the viability of the project or the need for it. GUCC repeats its OBJECTION to the application to construct a wind farm at Cnoc an Eas.
March 21st 2016
…..............................
Saturday 12th March 2016
Update of proposed wind farm at Cnoc an Eas Ref: 15/02758/FUL
The applicant has now submitted a Supplementary Environmental Information (SEI) document.
Nothing in the document changes the position of GUCC which stands by its objection to this application. Currently a further response to this effect is being drafted. The deadline for public responses is April 11th 2016 but the Community Council will have to submit in late March, unfortunately ahead of our next meeting, so there is a degree of urgency.
Full details of the SEI are available on the Highland Council e Planning website.
Please be aware that the website is very slow and the page containing the documents will usually take at least 2 minutes to load. Hard copies are available at Glenurquhart Library or I can lend a disc if anyone wishes.
The Community Council response will be posted on the website as soon as it is sent to Highland Council, meantime it will be very helpful if members of the public respond on their own account, and it would be appreciated if you would copy in the GUCC so that we are fully up to date with your opinions.
Any queries, please make contact on glencc@btinternet.com
….......................................
Below is the GUCC response to the Druim Ba wind farm planning application 15/03998/FUL.
Glen Urquhart Community Council
Proposed wind farm at Druim Ba, Kiltarlity 15/03998/FUL
To Highland Council – OBJECTION to the above planning application
Glen Urquhart Community Council does not automatically oppose wind farm applications and it positively supports renewable projects. Over the years it has supported the Corrimony Wind Farm and a number of hydro projects within the area. In August 2015 it gave support to an application for a feasibility study for a micro hydro scheme on the River Enrick.
In this case, GUCC has perused and discussed the planning documents and engaged with the single exhibition staged by the applicant in Kiltarlity. Given that a previous similar application on this site was refused by the Scottish Government, it is frustrating that the applicant has seen fit to submit a new planning application which, apart from minor adjustments, is very similar to the first one. Indeed, the applicant seeks to portray it as a revision to the first application. Glen Urquhart Community Council now wishes to lodge an OBJECTION to this new planning application. We seek to outline below the reasons for this objection.
Site selection – The proposed site is elevated and prominent within the landscape of Glen Convinth. Highland Council is currently consulting on the document, "Draft Supplementary Guidance on Onshore Wind", and this consultation commenced on 25th September 2015 which is nearly a full month before the application was received on 23rd October 2015. In order that the Guidance is not undermined by developers bringing forward proposals, we feel that any application submitted after the consultation commenced should be measured against the outcome of the consultation. At a general level we note that Highland Council states that, large scale turbines should be avoided, and any wind development (large or small) should avoid higher ground. Usefully, the Guidance also includes specific and detailed consideration for 20 key areas around Loch Ness. Whilst the scale of the map is quite small, we understand that this development would fall into area 9. The potential for wind farms in Area 9 is described as "small scale individual turbines…. Turbines should be smaller three bladed machines …..Development should avoid higher ground …..Development should be limited to the west of the A833". Clearly this development fails all these tests.
Although smaller than the first application, this one is still large and is on high ground, thereby contravening the draft policy. The proposed location is an area of commercial forest, large areas of which would be felled to facilitate the development. Such forestry is a key feature of this landscape and this level of felling would change the character of the Glen. This would contravene Policy 67 of the Highland Wide Development Plan and would be against the Supplementary Guidance. Removal of significant forestry, especially over such a time scale would be detrimental to drainage and could increase the risk of flooding. We, therefore, believe that this is not a suitable site for a wind farm.
Compatibility with locality – Glen Convinth is an area of small settlements and scattered dwellings and holdings. In terms of noise, it is a quiet place with the only industrial sound being generated by agricultural field work. Some of the proposed turbines would be located close to dwellings which would result in noise, vibration and flicker whenever they were in operation. Static images do not give an accurate representation of the extent of this issue which has been shown to have a detrimental effect on those experiencing it, including livestock. Aircraft warning lights would be required which would create light pollution and impact on the quality of life of residents across a wide area. Although the proposed development would be situated south of the first application and utilize smaller turbines, these changes would not mitigate the issues highlighted in the Public Inquiry. In fact, the visual impact would be different from, but just as bad as, the first application. The turbines, their bases, substation, infrastructure and access tracks would be fully and permanently visible. The applicant dismisses any cumulative visual effect. However, in the event that the proposed wind farm at Cnoc an Eas were to get planning permission, both developments would be visible from VP2 Carn na Leitre and from VP13 Meall Fuar-mhonaidh. Turbines would be visible from sections of the Great Glen Way and for over 90% of the A833 as it passes the length of Glen Convinth thus reinforcing the impression of what has been referred to as "the ring of steel" around the Loch Ness area. The applicant minimizes the quantity and quality of the wildlife present and suggests that there would be no significant negative impact upon it. Slavonian Grebe, a species on the RSPB at risk list, are present nearby although not actually on site. Nonetheless, there are only 30 breeding pairs in the UK and they are difficult to monitor because they move from loch to loch to feed during the hours of darkness. Any further threat to this species has to be a bad thing. In addition, Red Kite are now regularly seen in Glen Urquhart having flown there through Glen Convinth. The Glen Convinth community has, as a community project, recently published several volumes of photographs demonstrating the area's depth of flora, fauna and heritage and this gives a flavour of what would be destroyed.
Traffic – The A833 was, like most Highland roads, constructed with much lower and slower volumes of traffic in mind. On occasions when the A9 is closed, the A833 becomes the main route to the far north of the country. Routinely it carries local traffic, including forestry and agricultural vehicles and livestock transporters heading for Dingwall Market, as well as commuters, cruise ship passengers and, importantly, school buses. It is a popular holiday route and various cycling groups encourage their members to use it in order to avoid riding along the A9 and A82. The projected increase in HGV traffic during construction appears to be around 246% during the week and 421% on Saturdays. This figure would be added to by the large number of timber wagons required to deal with the felled Druim Ba Forest. Obviously such a huge volume of traffic is a cause of considerable community concern. Experience has shown that not only is there a direct road safety issue but construction traffic causes serious damage to the fabric of local rural roads resulting in further road safety issues.
Tourism – Tourism is an important industry in Glen Convinth and the wider area and is a major source of employment. The applicant seeks to minimize any negative effect, however, the most widely quoted survey was published in 2012, based on figures gathered over the preceding couple of years. Since then there has been a proliferation of wind farms as well as an increase in their size, resulting in their being more in evidence. Walking, horse riding, cycling and niche leisure activities are growing in the area involving both local residents and visitors. VisitScotland have said that 57% of visitors come for the landscape and scenery, and the Mountaineering Council of Scotland state that 64% of those who responded to their 2014 survey said they are less likely to visit or revisit places in Scotland due to the presence of wind farms. It is noticeable that VisitScotland has recently launched a new marketing campaign in which its focus continues to be the scenery and wildness of the country; images of wind farms being noticeable by their absence in the advertising material. In recent years the number of cruise liners mooring at Invergordan has multiplied. These passengers are high spenders who are taken to visit attractions throughout Inverness-shire choosing to travel via Glen Convinth because of the spectacular uninterrupted views as far as the Monadhlaith Mountains to the south and Ben Wyvis to the north. The cruise operators are very time and quality sensitive. They could well decide to vary their itinerary if the visitor experience was to include construction traffic and wind turbines. In 1995 the John Muir Trust stated that wind farms were visible over 1% of Scotland. In November 2015 it issued a report showing that this figure had risen to 48% of Scotland. Visitors spent £9.7bn in 2014 and tourism accounts for 8.5% of employment throughout Scotland. The percentage is higher than average in this part of the Highlands and the very small number of permanent, year around jobs offered by wind farms would not redress the loss of jobs which would occur if the tourist industry collapsed. GUCC strongly recommend that Highland Council takes a precautionary approach to protecting tourism in this area and rejects this application.
House prices – There is a perception that the proximity of wind farms has a negative effect on property prices. The applicant dismisses this as being without evidence. However, there appears to be a growing body of evidence from the Valuation Office Agency that wind farms do lower the value of property, and although this is not the over-riding issue it is a definite and reasonable anxiety.
Community benefit – The applicant has indicated that community benefit would be available in line with recommendations from Highland Council. Community benefit should be seen as compensation rather than benefit and plays no part in the planning application decision making process. In the cases of Glen Urquhart and Strathglass, all community benefit is administered by a community company called Soirbheas. A company of this sort is likely to achieve a more advantageous outcome than when community benefit is administered by an applicant.
Need – Scottish Government figures indicate that if all the wind farms already consented get constructed, then it will have reached its targets for wind energy. Therefore, there is no requirement for further wind farms and none should be built. Indeed, in November 2015, The Rt. Hon. Amber Rudd MP, Secretary of State for Energy and Climate Change indicated an intention to investigate sources of electricity other than land based wind farms. There does not, therefore, appear to be any national requirement for this wind farm.
Conclusion – Glen Urquhart Community Council believes that the proposed wind farm at Druim Ba is inappropriate and unnecessary for the reasons listed and wishes to lodge its OBJECTION. GUCC may wish to submit further comments at a future point.